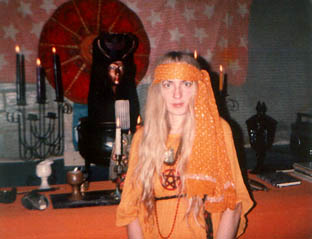 Isadora guest-priestessing at a friend's at Samhain in the late '70s.
She dubbed his Nefertiti-as-Isis goddess creation "the Egyptian Nun."
Drawing Down the Moon • Scribe of Souls • more soon!
Back to From the Lady's Pen
Lost in the Lady's Labyrinthine Lair? Visit the Site Map!
©2002-2012 Photos and graphics are the property of Lady Isadora and may not be used without her permission. All Rights Reserved. Site by Unicorn Design.