Isadora and daughter Andred are co-founders of Our Lady of Spiritual Audacity, an organization inspired by such "uppity women" heroines of male-dominated religion as Joan of Arc; Pope Joan (Joan English, whose legendary existence as Pope "John" VIII the Catholic Church emphatically denies, yet for whom there remain many persuasive clues – see Peter Stanford's The Legend of Pope Joan); and medieval mystic abbess-composer Hildegard von Bingen, "the Sibyl of the Rhein."
Andred and Isadora are life-long Witches and Goddess-religionists, not disaffected Roman Catholics nor former Christians. OLSA is dedicated to exploring and promoting public dialogue and awareness about the apparently Pagan roots of the legendary Jesus figure and original Gnostic Christianity, as theorized with abundant impressive evidence in such revolutionary books as The Jesus Mysteries: Was the 'Original Jesus' a Pagan God? by the controversial and thought-provoking Timothy Freke and Peter Gandy, The Christ Conspiracy: The Greatest Story Ever Sold by incisively insightful archaeologist-historian Acharya S, and The Pagan Christ: Recovering the Lost Light by Tom Harpur, distinguished academic and former Anglican priest.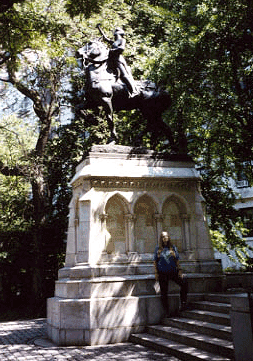 Isadora in Joan of Arc Park, NYC, August 2005.
O have you heard that there are street-corner preachers in the world today
Who think Jesus died to take their minds away?
I know they're wrong – I know that we're not deceived!
But they'll tell you 'the devil' has got your soul
They'll rant and they'll rave with their rigmarole
Don't let them win! Stand up for what you believe!
They'll throw the Book at you
Try to convert you to the Father and the Son
There's something missing when they leave out the Mother
Of everyone – don't let them bring you down!
Ye priests and ye priestesses of the Earth
Come drink from Her grail of the soul's true worth
The whole wide world shall be Her Table Round!
– from "Table Round" (words and music by Lady Isadora), Priestess of the Pentacle, ©1990, Dance of Life Productions (ASCAP)


c/o Lady Isadora & Lady Andred
P.O. Box 41246
Des Moines, IA 50311 USA
olsa@ladyisadora.com
"Sibyl of the Rhein"
holy card

German statue of
Hildegard von Bingen

Pope "John" VIII?
Heroines • Goddesses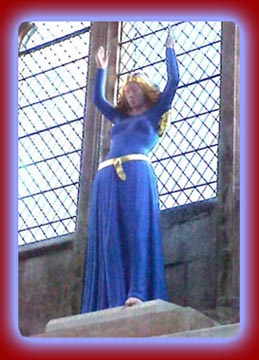 The powerful avant-garde Mary statue at Ely Cathedral in
England, unfortunately rather unpopular with many churchgoers.
Isadora calls Her "O Mighty Isis!" Mary.